Hello Payment Service Providers. Welcome Marketplaces. Fancy new growth?
Your merchants want it, we have it: The most popular payment methods in the DACH region. Buy Now, Pay later in white-label, easily customizable and highly transparent.

May we present: our Reseller Model
We understand the specifics of your business and the challenges you face.
That's why we created our reseller solution. It includes a smooth onboarding process for your merchants, a simple contractual arrangement and a painless technical integration. Ratepay's plug and play solution enables you to keep acting as the single point of contact for your merchants/retailers. The shoppers enjoy a seamless customer experience via our convenient one stop shop solution and their preferred payment methods.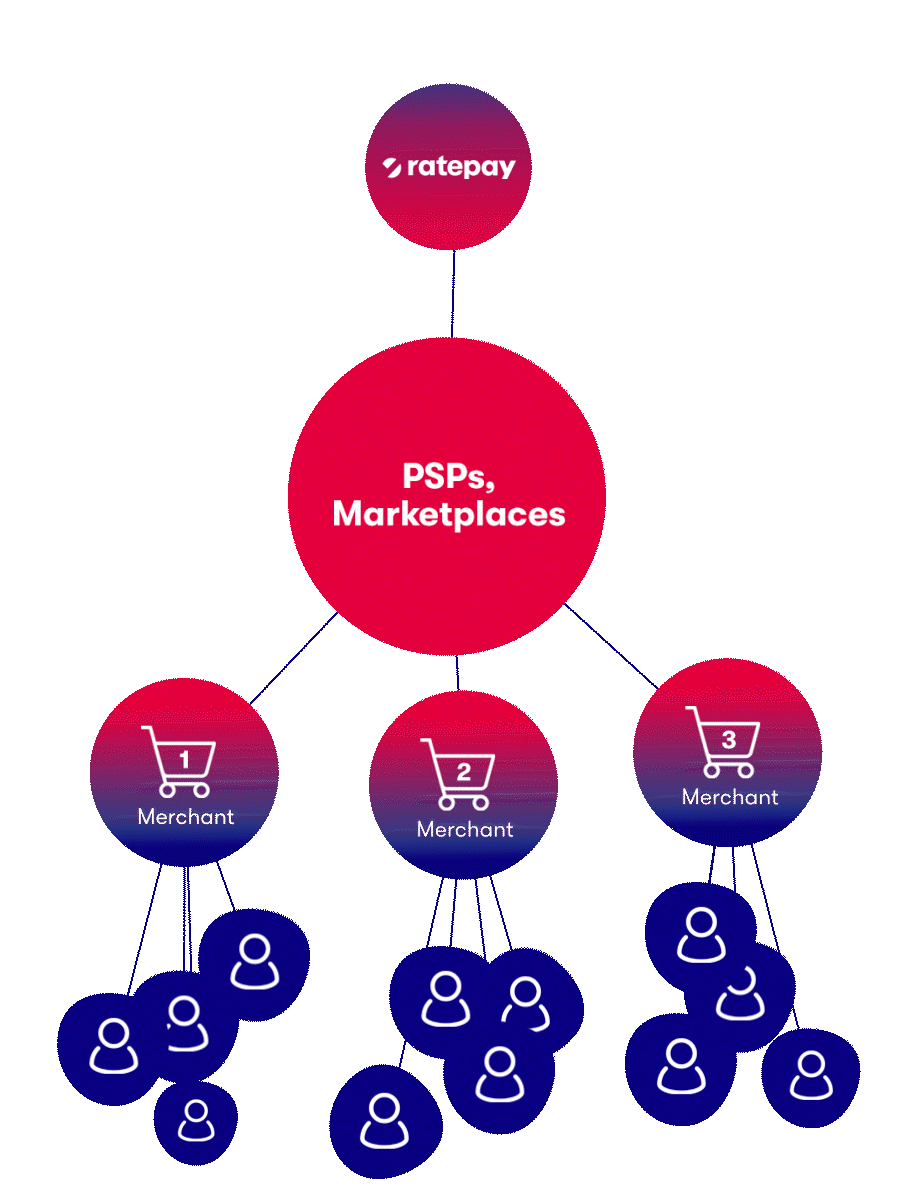 Especially proud of: our resellers
It does not matter whether you are a payment service provider, a marketplace or a bank. If you want to offer our BNPL solutions to your merchants/retailers, we will be there for you. Just like for:
Advantages for resellers
One partner
You benefit from one single contract and an one-time integration for all BNPL payment methods. So you can scale everything within your entire merchant-base and have full control as the single point of contact.
Risk management
Via our factoring model, we acquire the claim and guarantee 100 % payout to you. In addition, we cover the entire payment value chain. This starts with the integration and goes all the way to the dunning process.
Reconciliation
You have full control over all cash flows from all connected merchants at all times. This applies to every single payment method you make available to every single merchant on your platform.
"We are pleased that our merchants can offer a Buy Now, Pay Later solution with Ratepay's purchase on account. Customer demands on online retail are constantly increasing. A smooth payment process is a critical part of the customer journey."
Jörg Kablitz
Managing Director PayPal DACH
Advantages for merchants
A one-stop-shop
Merchants benefit from a single contract and a single point of contact for all questions and concerns. The usual problems do not arise when merchants work with different payment providers at the same time.
Payment from one single source
Merchants benefit from a single cash flow in which all transactions from the marketplace or PSP they are connected to are bundled. It doesn't get any more transparent than this.
One time integration
Merchants do not have to set up a separate integration process for each payment method. Only a one-time integration with the PSP or marketplace is required and all payment methods are easily connected.
Why we fit your needs.
All popular payment methods
If you have Ratepay's BNPL payment methods on board, you cover more than 50 percent of the most popular and common payment methods in Germany.
10 years of experience
With more than 10 years of BNPL experience in the DACH region and the Netherlands, we can show you the way and help you establish yourself as a new reseller in the DACH region.
True partnership
We are your transparent partner and provide you with data-driven insights around the payment process of your e-commerce. We are there to help you improve continuously.
Entire payment value chain
We cover the entire value chain from integration to dunning. Guaranteed 100 percent payout to the merchant and 0 percent credit default risk and fraud risk for the buyer.
White-label
Our seamless white-label approach puts your brand and your merchant's brand in the spotlight. White-label has also been proven to increase trust between the customer and its merchant.
Sounds exciting?
Let's get started.