Buy now pay later for PSPs and marketplaces
Ratepay has been offering its reseller model since 2019. Today, the model upgraded based on the API 2.0 release earlier in this year. Now, payment service providers and marketplaces can finally easily integrate the most popular payment solutions in the DACH region to their portfolio i.e. white-labelled payment upon open invoice. Martin Kuffel, Head of Reseller at Ratepay, explains in an interview the advantages of the reseller model for payment service providers, marketplaces, and merchants.
Hi Martin, what is the basic idea behind the reseller model?
In the DACH region, purchase by open invoice ("Rechnungskauf" in German) has been the most popular payment solution for a long time. PSPs and marketplaces that want to attract and onboard new merchants are therefore well advised to offer purchase by open invoice in addition to other buy now pay later payment methods. Those who do not are missing a significant part of the relevant payment mix and therefore are less attractive for merchants who want to be successful in the DACH region.
At Ratepay, we have always specialised precisely in the buy-now-pay-later products, meaning open invoice, SEPA direct debit, and installment in the DACH region. We are the local heroes, so to speak. Thanks to our reseller model, PSPs and marketplaces can now be connected quickly and easily to precisely these BNPL products in order to make them conveniently available to their merchants.
What makes Ratepay unique in this respect?
It is the simplicity and transparency of our business model. Ratepay is the leading white-label BNPL provider because our partners understand and value the service we are providing. We are a risk management company that covers 100 % of the consumer credit and fraud risk associated with these differed payments solutions. We make real time decision with no pending status, Post Ident or other nonsense. Our white-label approach allows us to seamlessly integrate the customer's most favorite payment solutions in the native checkout of any merchant, which increases conversion and therefore enables e-commerce.
Throughout the entire value chain, we strive to deliver the best buyer experience. Equally important for our partners, is the fact that we do not up or cross sell into any other products nor do we actually commercialize customer data. We are not a "super app", we don't take over the customer relationship.
Equally important, the collection process is not part of our own value chain. Meaning our core interest is 100 % alignment with the merchant's, which is to obtain the best possible approval rate, but in a sustainable and healthy framework, which supports the merchant brand value and customer experience and long term relationship.
In sum, risk management is our business model and not a lead generator. In every aspect, we are a true partner because we are not competing with PSPs and merchants but enable them to do e-commerce.
Can you briefly explain white-label in more detail?
The payment takes place completely in the native checkout and the brand world, meaning "look & feel" of the marketplace or online shop. Without the logo of a third-party provider and without for example redirection to a payment page. Customers do not even notice that they are paying via a third-party provider when selecting their most favorite open invoice payment method. At the end of the day, it is all about offering a seamless customer checkout experience. For the merchant that translates into an increased conversion rate and ultimately more business.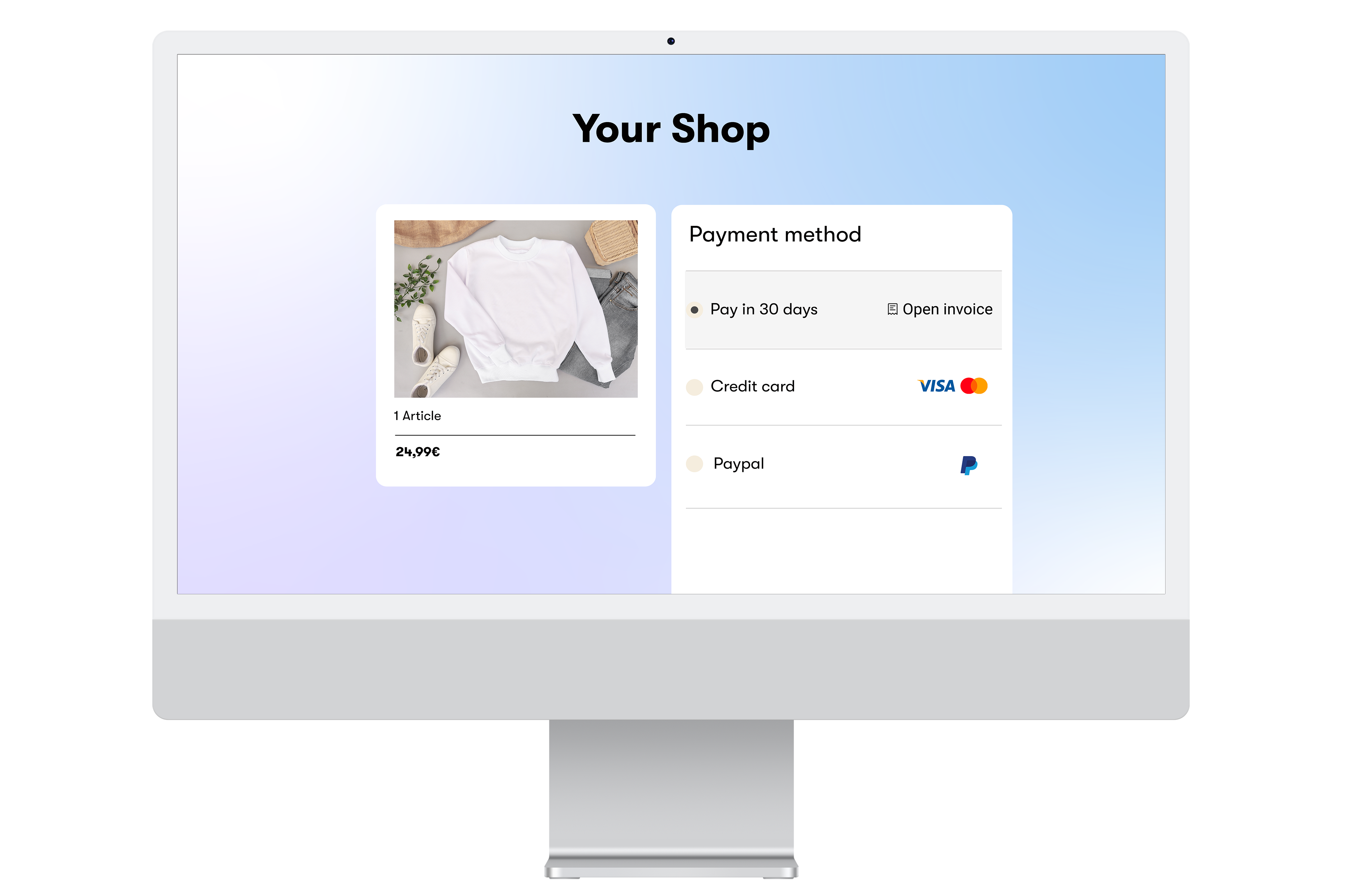 How does the technical integration work in concrete terms?
Our partner PSPs or marketplaces integrate our API 2.0 interface. By using the JSON format (JavaScript Object Notation Format), any payment solution can be flexibly integrated into existing systems without any development effort. API 2.0 is also a REST API, which also simplifies merchant onboarding.
Our API 2.0 is "state of the art". That's why PayPal, of all the fintechs in the industry, has chosen Ratepay as its partner: we have been the exclusive invoice purchase partner for the "PayPal Checkout" in Germany since 2022. That was a real accolade for us, and we are proud of it.
But it's not just the technology. Decisive points also speak for us when looking at the entire value chain of offering BNPL when offering a scalable reseller model. There are advantages for PSPs and marketplaces on the one hand and merchants on the other.
First tell us about the advantages for PSPs and marketplaces.
First, there is the one-partner concept: PSPs and marketplaces enter into only one contractual relationship – with Ratepay. Then there is a one-time technical integration of all desired payment solutions. Just like a plug-and-play solution. Finally, PSPs and marketplaces can activate the payment solutions for new and existing merchants individually. The PSPs and marketplaces remain the single points of contact for their merchants including contracting, onboarding, payouts etc. In other terms, the partner remains in the driver seat with their existing merchants.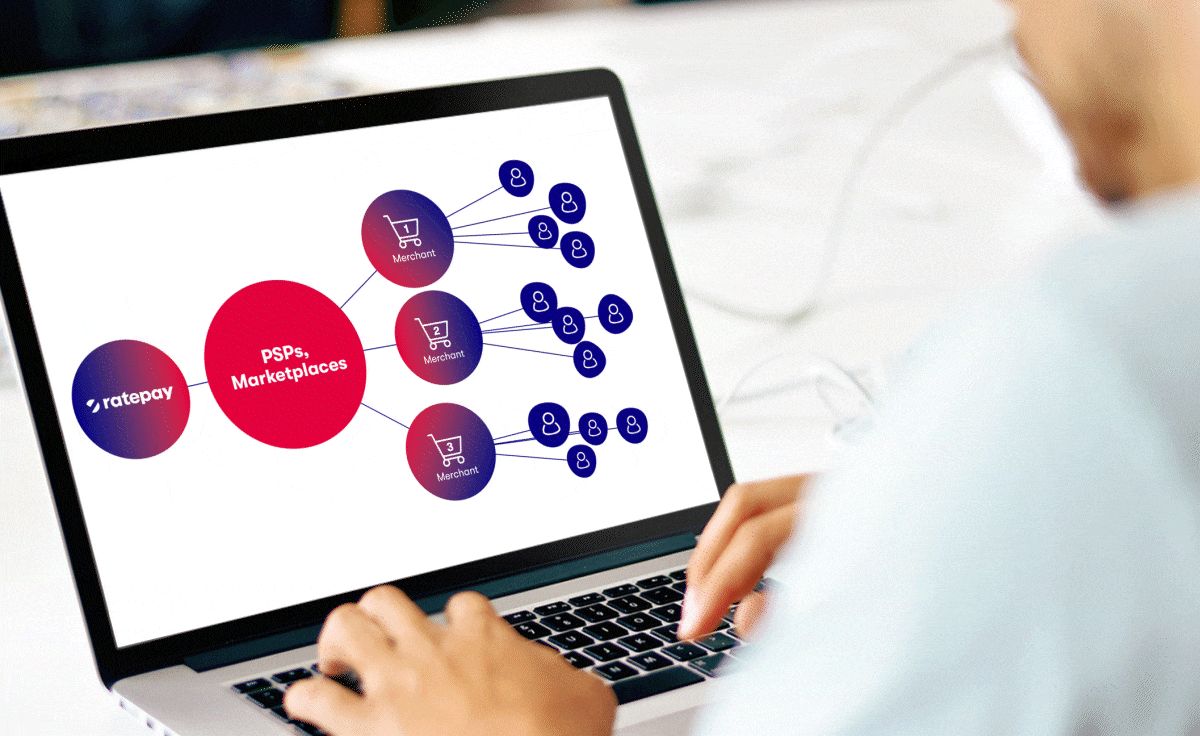 Secondly, there is risk management: through our factoring model, we bear the customer payment default and fraud risk in full and guarantee a 100 percent payout to the PSP or marketplace, which in turn can guarantee its merchants a 100 percent payout. Everything else is Ratepay's responsibility. We deal with the entire value chain from real time risk management, dunning, customer service, and disputes.
Finally, our reseller partner has complete ownership of the reconciliation process as Ratepay pays out the full claim value minus our fees. Thus, the partner can streamline all different payment streams from Ratepay and other payment methods and payout the individual merchant with one payment. They have full control at all times over every cash flow that goes to every single connected merchant.
And what are the advantages for online shops and merchants?
They also benefit from a single contract and a single point of contact for all concerns: that is the PSP or marketplace. The usual problems that arise when merchants work with different payment providers at the same time do not exist.
In addition, merchants can look forward to a consolidated payout as all directly from the PSP or marketplace on agreed dates.
Finally, merchants do not have to carry out a separate integration for each payment solution. Here, too, there is only one integration process and all payment solutions are completely integrated into the merchant checkout process.
Which partners have you already been able to win for your reseller model?
We are currently working with eBay, Adyen, Nets Easy, Metro, OTTO Marktplatz and PayPal. And we are happy about every other partner. The reseller model is there for all PSPs and marketplaces who want to successfully set up and expand their e-commerce in the DACH region.
And that works particularly well with our payment solutions. Not only because white-label invoice purchasing is the most popular payment solution. As already mentioned, we do not compete with other payment providers with our products. That's why you can always include us in any portfolio without hesitation.
Can you explain this in more detail?
First of all, we simply close a very important gap in the portfolio of relevant payment solutions. With us, PSPs and marketplaces can finally offer their merchants the perfect mix of payment solutions for the DACH region. In this respect, we are the guarantor for a win-win situation between PSPs, marketplaces and merchants.
But with us, there is also no indirect competition. Let's assume that in a merchant's checkout, payment provider A offers purchase by open invoice under its brand and provider B offers payment by credit card at the same time. Then this does not look like competition at first. But if the provider of the purchase by open invoice also operates as a bank that issues credit cards, the tide turns: then the customers bind themselves to provider A via the purchase by open invoice, become the addressees of its credit card sales and perhaps soon also use its credit card, which is then certainly in direct competition with provider B.
You don't get situations like this with Ratepay's solutions. Our BNPL payment solutions have only two goals: a functioning cash flow and happy shoppers. We are very proud of this neutrality.
Thank you very much for the interview, Martin.